DELIVERING TO SYDNEY METRO AREA*
Raw Pet Food Delivery Service - To Your Home Or Work Place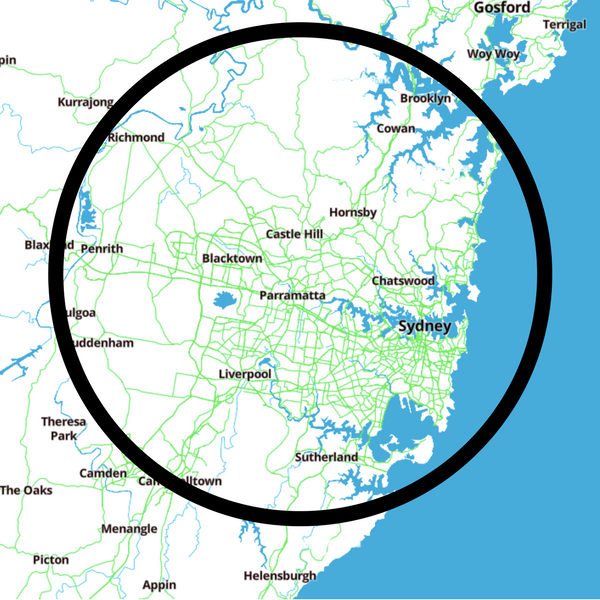 Not sure if we delivery to your area? Call 0407 224 518 (8 am to 8 pm 7 days a week)
We provide a refrigerated/chilled/frozen service ensuring your order arrives to your door ice-cold.  Orders will be kept in a temperature controlled environment, delivery to your door, maintaining quality and freshness from our door to yours.  Please ensure you follow the guidelines to cut off when placing your order to guarantee your delivery arrives on time.  Deliveries vary from early-mid morning to late afternoon this is dependent solely on delivery itinerary; rest easy as our packaging keeps for hours, if your not home no need to be concern.

Place your order anytime, 7 days a week 24 hours a day - Sydney Metro Delivery Every Thursday From 6am - 8pm
CUT OFF FOR ALL ORDERS 2 PM EVERY TUESDAY FOR DELIVERY TO NOMINATED ZONE BELOW.
No deliveries on public holidays or weekends

(*Map is indicative only)
(PN delivery to a particular postcode may incur further charges outside of delivery zone, an email will be sent upon placing your order if this relates to your area zone)
Delivery Outside of Sydney Metropolitan Area NOW available
SYDNEY METRO - Weekly Thursday

BLUE MOUNTAINS/HAWKESBURY/SILVERDALE TO LOWER PORTLAND/WEST TO KATOOMBA) - Weekly Thursday

WOLLONGONG/KIAMA/CAMDEN TO MOSS VALE/STH TO KIAMA)  - Weekly Friday
SOUTH COAST/KIAMA HEIGHTS/NOWRA - Weekly Thursday

CENTRAL COAST/GOSFORD/WOY WOY,MOONEY MOONEY TO MORISSET, WEST TO MANGROVE CREEK)-Weekly Thursday
NEWCASTLE (DORA CREEK TO WILLAIMTOWN)
-
Weekly Thursday

GOULBURN/BOWRAL - Weekly Friday

CANBERRA METRO - Weekly Friday 
Delivery Outside of Sydney Metropolitan Area?
Available upon request with shipping to be quoted.  

Shipping charges quoted via the online shop are for Sydney Metropolitan and NSW delivery listed above.
We are continuing to grow into the market place offering more delivery locations COMING SOON!.  
Enquires always welcome.
MELBOURNE & BRISBANE Bulk Deliveries Available - Order via link below - Weekly Delivery 
Melbourne Delivery Now Available To Your Door - Fees may apply for this additional service.  Please email your suburb and postcode prior to placing an order, our team will confirm if your we deliver to your area.
therightstartpetfood.com/products/interstate-vicbris



Australia Wide 
Retailers/Wholesalers Enquires Or Becoming A Stockist
Email: info@therightstartpetfood.com
International 
Retailer Enquires Or Becoming A Stockist Reach Out To Our Team!
Email: info@therightstartpetfood.com
We are a Sydney based company 
Proudly Owned/Operated In Australia/Supporting Aussie Farmers/100% Aussie Ingredients 
PN - please call or email advising us of your delivery area if you wish to confirm delivery prior to ordering online.  
Areas continue to grow, as we continue to evolve feeding The Right Start Pet Foods to the pets of OZ...
yours could be on the list real soon! 
Ph: - 0407 224 518
info@therightstartpetfood.com
Follow us
 on 
Instagram
 and
Facebook
 to keep updated on whats new and get The Right Start in your news feed!
Why compromise when 100% NATURAL, RAW AND FRESH is always BEST!